STAY IN SHAPE: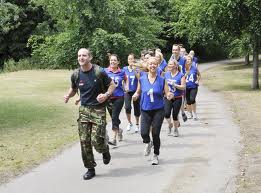 The Military workout is designed to be egalitarian: anyone can do it anywhere. It doesn't require a gym, money or any special equipment.
CLICK HERE to find out more.

Most civilians probably wouldn't use this method to stay in shape – it's high impact, it's boring, there are just a lot more interesting ways to stay in shape. That's fine. As long as you're staying in shape, by some other means (biking, lifting weights, tennis – whatever) – so that you stay within striking distance of these minimum levels, that's all we need to measure at this point.

This is a main goal of www.war-reform.com – to make the military a more organic part of American life and to break down walls between the military and the civilian population. Each can help the other. This is OUR military, not separate from us. We don't want the entire burden of war falling on them. We don't want them isolated and brutalized like that.

At the same time, military training, without war, is one of the healthiest and best things for our overweight, undisciplined and wayward civilian population. Remember: you don't have to be willing to serve to help our movement, a 100% pacifist can still help our movement.
It's Fun and You Meet the Best People!